Last year around this time, I shared all about my absolute favorite stress-free morning work alternative: morning tubs.
Since that last blog post, I've received hundreds of questions in my inbox about morning tubs and how to best implement them. While I've answered each question individually, I thought it might also be helpful to share my responses here. Ready? Let's go!
What are morning tubs?
Plain and simple: morning tubs are a fun, exploration morning activity that your students do instead of traditional morning work.
Your students will, without a doubt, love starting their mornings with morning tubs. And, I promise, they will become your new best friend too!
Imagine no longer having to pull teeth to get your students to complete their morning worksheets.
Imagine no longer frantically rushing around your classroom to check work, take attendance, settle down students, and get ready for a full day of learning.
Morning tubs make that a reality!
Benefits of morning tubs using the acronym PLAY:
P – Positive classroom environment
L – Learn STEM, math, reading, and writing with hands-on activities
A – Asks students to collaborate and socialize
Y – YOU, the teacher, have more time and energy
P – Positive classroom environment
If you're constantly exhausted before 9:30 am and your students act like they don't want to be there, I want you to think about your classroom environment. How are your students beginning their day? Are you feeling like you're constantly nagging them? Do you feel like your juggling 24 different balls at once?
It doesn't have to be this way. Morning tubs will set a positive tone for the day. Your students will be eager to learn and participate with morning tubs. And, you'll have more time than ever to take attendance, collect field trip money, answer a quick email, and get the last-minute tasks (that even the most prepared teachers have to do) ready for the day.
L – Learn
This one is a no-brainer but it's an important one to include. Too often principals hear the words morning tubs or play and immediately want to know where the standards fit in.
Well, with the morning tubs I provide, students are participating in hands-on learning opportunities with activities that are directly linked to the CCSS. I've developed the activities so students will have no clue they are learning, but really they are meeting the standards that you're required to teach and they're required to learn!
A – Ask Students to Collaborate and Socialize
As the demands of teaching weigh heavily on teachers and more and more pressure is being put on students, we tend to forget the importance of collaboration and socialization.
Friends, you know and I know: students need opportunities to collaborate and socialize. Just like we do!
Rather than fight students in the morning, invite them to participate in conversations about a morning tub activity.
Instead of asking students to remain quiet and stay seated, ask them to engage in meaningful learning.
Thank you, Ms. Logan, for the wonderful photo of this sweet student!
Y – You
Very rarely do we consider ourselves when we think about the decisions we make in our classrooms. Give yourself permission to let go of some control in the morning. Give yourself permission to complete the housekeeping duties without feeling frazzled and exhausted.
These 10 minutes will change your attitude and energy in the best possible way.
Look at all of the benefits of morning tubs for YOU:
you no longer have to rush around to make morning work copies
you can actually take attendance – on time!
you aren't rushing and feeling frazzles to get.it.all.done
you are no longer pulling teeth to get your students to complete morning work
you'll have more time to do the little morning tasks that sneak up on you (and, if you wish, you can even pull a student at the small group table for some one-on-one instruction!)
Most importantly, morning tubs help you create an environment where you and your students want to be each and every day!
How Do Morning Tubs Work?
The truth is, you don't need a whole lot to implement morning tubs in your classroom because I literally provide every single thing you need below (other than the manipulatives!).
1st Step:
Gather the materials I provide for you and your favorite manipulatives (I'll share a long list of my favorites below).
2nd Step:
Designate a space in your classroom that is easily accessible to students. I like the low bookshelf you see below, but I've seen teachers use Ikea storage, existing shelves already in a classroom, and open tubs! I personally like the clear tubs so it's easy to see what's inside. Eliminate guessing!
Fill the tubs with the materials and manipulatives, and you're ready to rock and roll!
To prep: Print, laminate, and attach the labels to the front of the Sterilite 6 quart tubs. I purchased each of the tubs at Target for about .90 a piece! Links to purchase the tubs can be found below. You will want to prep the materials for the following month's morning tubs in advance. I suggest you store all of the previous month's materials in large yellow envelopes or Ziplocs. I buy the 9×12 envelopes and the gallon-sized Ziploc bags.
3rd Step:
Now all you need are your students! Allow students to explore the tubs during the time they would typically complete traditional morning work, and then smile inside as you gain back precious time in the morning!
Want to give morning tubs a whirl in your classroom?
I have created a bundle of over 200 morning tub activities for the entire year. The morning tub activities get progressively more challenging as we move through the school year.
The activities included focus on STEM, math, reading, grammar, and writing skills.
Check out the activities included in the October packet below. Additional tips on how to implement morning tubs and a detailed list of suggested materials are included in the bundle.
Ready to buy the bundle?
Click here to snag the whole bundle and save $50 (and get access to 200 morning tub activities).
Or, just buy the October morning tubs activities here.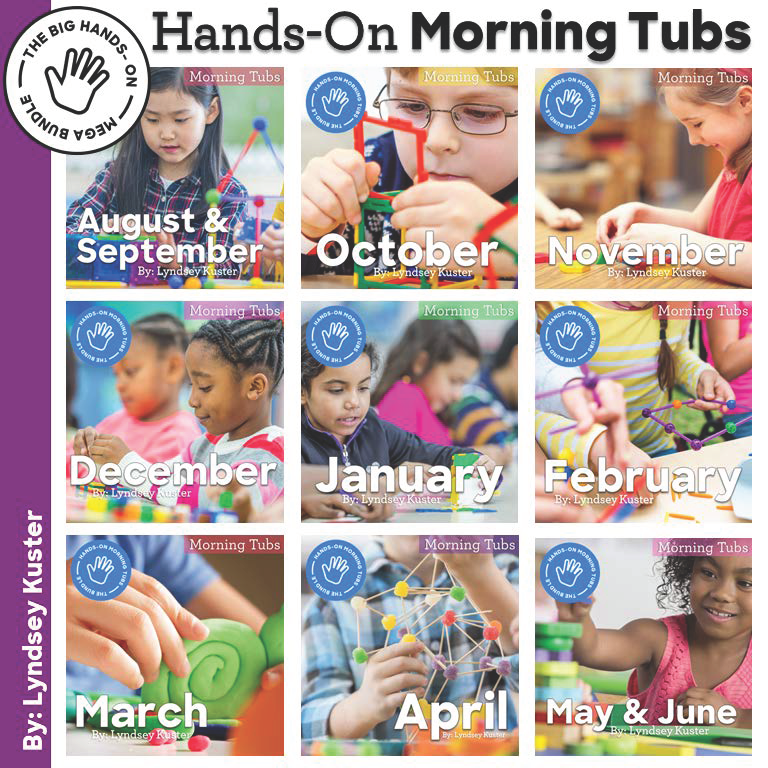 Love this resource and wish you had access to more like it? Want instant access to a library of resources (for ALL content areas) catered specifically to you and your students' needs? If you're nodding yes, then be sure to join the LK Teacher Club!
When you join the LK Teacher Club, you gain instant access to the resource I share all about in this blog post, plus every other resource I've ever created ($2000 value).
Not only that, but you'll also have immediate access to more than 100 exclusive resources that aren't found anywhere else!
Get ready to tackle teaching with confidence and ease! Click here to find out more about the LK Teacher Club.