Handwriting is an important skill for K-2 students to practice again and again. Even before students begin to read fluently, letter formation, and recognizing sight words will help your youngest learners start to write well and then recognize words as they read. Teaching handwriting doesn't have to be stressful or painful. Today, I'm sharing an easy, hassle-free way for you to help your students improve their handwriting and literacy skills.
In this post, I'm breaking down the following:
Why You Should Teach Handwriting
How To Teach Handwriting
Implementation of a Handwriting Routine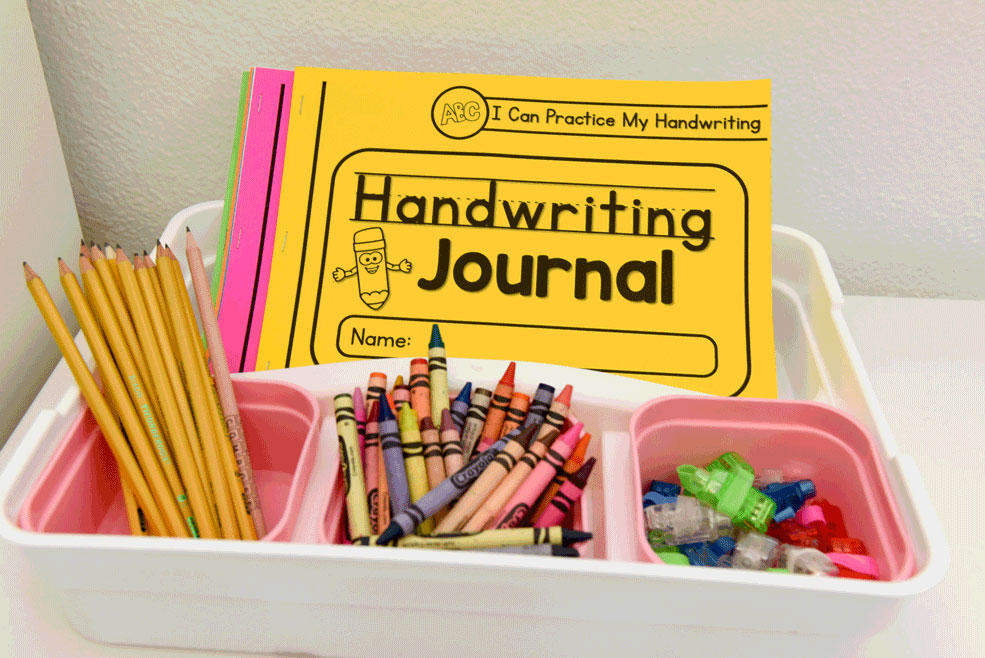 Why Should You Teach Handwriting?
Let's be real. In a world where so much emphasis is put on technology, handwriting is becoming a secondary skill in some classrooms. However, handwriting instruction is imperative not only in communicating a written message but also in promoting literacy in the classroom. Researcher Karin H. James from Indiana University focused on the link between handwriting and literacy. Writing letters on paper helps solidify the image in the brain. Focusing on step by step handwriting instruction for your younger students starts with daily practice.
Handwriting is also a physical activity that aids in improving hand-eye coordination and muscle memory. Teaching your students the proper pencil grasp is the first physical step in helping your primary students write well.
By emphasizing handwriting instruction in early elementary, your students will be prepared readers and writers as they go through their elementary, middle, and secondary years!
How Do I Teach Handwriting?
Whether you're introducing letter formation for the first time or having students practice writing Fry's 1st 300 words, the most important part of handwriting instruction is establishing a consistent routine. Just handing the practice pages to your students will not change the way they write. There are important steps to writing instruction.
Step One: Modeling
Before you teach letter formation, you should show your students the proper way to hold a writing utensil. Make sure you are modeling the correct grip in order for students to write correctly and without pain.
Modeling also is important when writing on the board. Even if your lesson has nothing to do with handwriting, make sure you are taking the time to write letters correctly. This may sound obvious, but when the day gets busy, you may find yourself rushing through writing. Pause, and make sure to model proper letter formation for your students.
I suggest displaying a poster, like the one below (free download), in your classroom to use when modeling the correct pencil grip. Students can refer back to it over and over again when writing.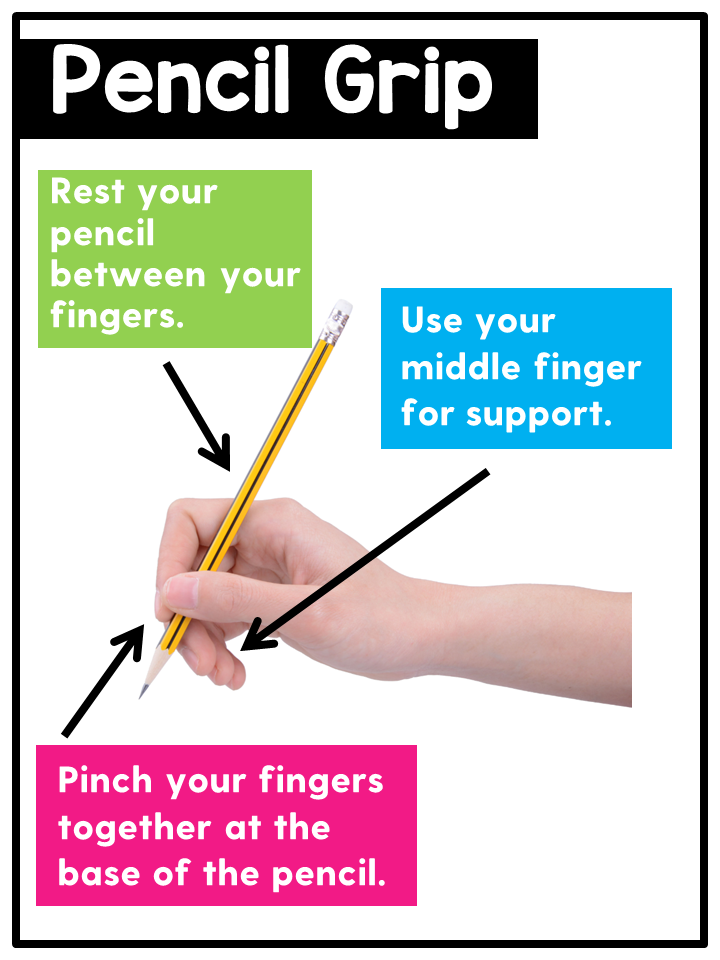 In addition to modeling and practicing correct pencil grip, I also suggest building these fine motor activities in your daily routine to help students build their hand muscles.
Beneficial Fine Motor Activities:
hole punching
playdough
lacing
tweezing pom-pom balls
small blocks/Legos
beading
painting
Step Two: Practice Letter Formation
Practicing writing each lowercase and capital letter is important in teaching handwriting. Start by having your students trace the letters on the pages. Then, your students can write the letters.
Practicing letter formation is important for both print and cursive handwriting. As your students transition to cursive, the letter formation will also include slant. Starting with a strong foundation in printed capital and lowercase letters will help your young writers.
Step Three: Practice Size
Knowing the shapes of letters is the first step, but you also want to help your students fill the lines properly to make sure they are writing their letters proportionately. Teach what letters have ascenders (portions of the letters that go above the middle of the handwriting line) and descenders (portions of the letters that go below the bottom of the handwriting line). This is often a struggle for students starting out, so practicing these skills again and again is so important!
Step Four: Practice Spacing
Once you teach your students to build words from letters, it's important to add spacing rules. Teach your students that the spaces between each letter within words should be equal and the spacing between words should also be the same. Eventually, students will form sentences and paragraphs. Teaching spacing is essential when striving for legible handwriting!
Implementing a Handwriting Routine In Your Classroom:
I suggest implementing a year-round handwriting routine into your instruction with your K-2nd grade learners to practice letter formation and forming words. Consistency is key! Find a time of the day or week to teach handwriting, and make sure to try your best to stick to a schedule. Students thrive on routines!
You can implement handwriting instruction during your writing block or during these times:
morning work (add to your morning tubs)
homework (for review)
word work
before or after lunch or recess
practice at home
Benefits of a Handwriting Journal
If you're eager to add an all-in-one, ready-for-you handwriting journal to your daily routine, you're in luck! You can try out a free 16-page Handwriting Journal packet (includes 15 sight word sheets). Just click on the yellow button below.
Everything is ready to go! With this low-prep resource, your only work to get it ready is hitting print and stapling the booklets together. Because each section comes in a separate file (letter formation, numbers, colors, and sight words), you can put them all together in one booklet or print only what you need.
Handwriting Lessons in the Handwriting Journal
Each section of the journal focuses on the how of teaching handwriting.
Letter Formation
Students will practice writing their capital and lowercase letters A-Z. Each page comes with an image and "I can" objective statement at the top of the page. For example, the letter "A" has a picture of an apple, and "I can practice writing the letter A."
To begin, students will trace each letter on a handwriting line. Then, they will write each letter (capital and lowercase) to the end of the line paying close attention to both letter formation and spacing. Finally, they will practice writing words that start with the given letter.
Number Formation
When it comes to handwriting, we're often focused on letters. Don't overlook number formation! The Handwriting Journal also comes with pages to write numbers in standard and word form. Practice numbers one through twenty with the journal.
Colors
The Handwriting Journal is also used to teach other skills, such as recognizing colors. Your students will practice writing ten common colors by tracing and writing the color word, using it in a sentence, and illustrating the word (using the color).
According to Dr. Edward Fry, who developed the list of most common words used in the English language today, the first 300 words on the list appear in two-thirds of all reading materials. Practicing these words in connection with handwriting will help your students recognize these common sight words in a text. Sight words should be used in both writing and reading instruction. Students will trace the sight word, write on the line, and then use the word in a sentence. Finally, your kids will illustrate the word in the box provided on the page.
Don't rush to complete the sight words right away! This resource can be used throughout the year as you introduce new sight words to your students.
Handwriting is a foundational skill that helps improve fine motor skills, literacy, and written communication.
If you are looking for a yearlong resource to teach handwriting, grab the Handwriting Journal for your classroom!
You can snag the whole bundle for just $18. Click here or on the cover below to snag it.
Have any questions about implementing a handwriting routine in your classroom or questions about this resource? Leave a comment below!
Love this resource and wish you had access to more like it? Want instant access to a library of resources (for ALL content areas) catered specifically to you and your students' needs? If you're nodding yes, then be sure to join the LK Teacher Club!
When you join the LK Teacher Club, you gain instant access to the resource I share all about in this blog post, plus every other resource I've ever created ($6000+ value).
Not only that, but you'll also have immediate access to more than 100 exclusive resources that aren't found anywhere else!
Get ready to tackle teaching with confidence and ease! Click here to find out more about the LK Teacher Club.