There is nothing more satisfying as a teacher than having the necessary materials and tools to help your students, right at your fingertips. Don't you agree? That's why I'm constantly brainstorming new ideas, resources, and tools to help you have more ease in the classroom. Today I'm sharing an easy-to-use, no-fuss phonics tool!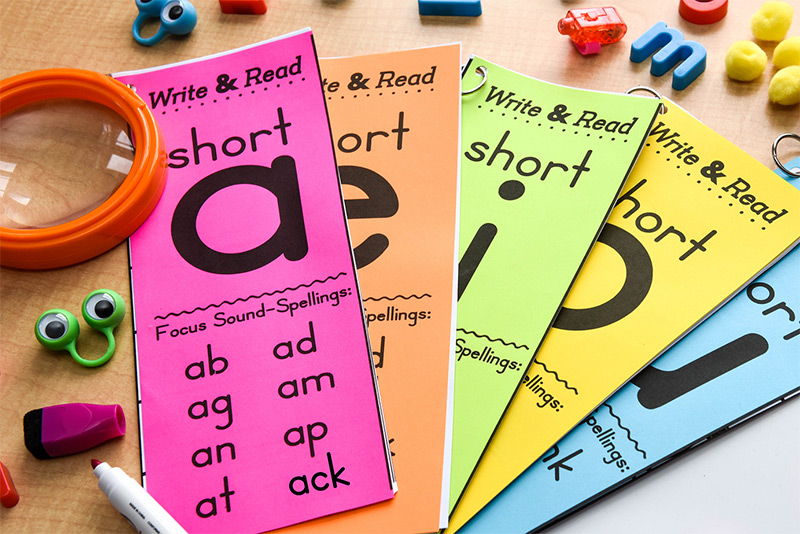 Many of you have reached out to me over the past few months asking for additional phonics resources—specifically resources that are easy to use and implement.
So, I created just that! Introducing…Write & Read Phonics Books. These books are a high-reward, low-prep phonics tool. I'm breaking them all down for you below.
What are Write & Read Phonics Books?
Write & Read Phonics books are a simple and effective phonics tool that students can use to practice every phonics sound-spelling. These little books can be used in a multitude of ways, including:
RTI/Intervention tool
put in book boxes
put in desk caddies as an early finisher practice activity
one-on-one practice
put-in word work area
independent practice tool
How Do You Use This Phonics Resource?
To use them, students will write the missing sound-spelling pattern in the blank space and will then read the word. After they've read all of the words with that sound-spelling, they will color in a star (3 stars in all).
These are fabulous tools to help students master each phonics pattern. They will also help students build fluency and confidence.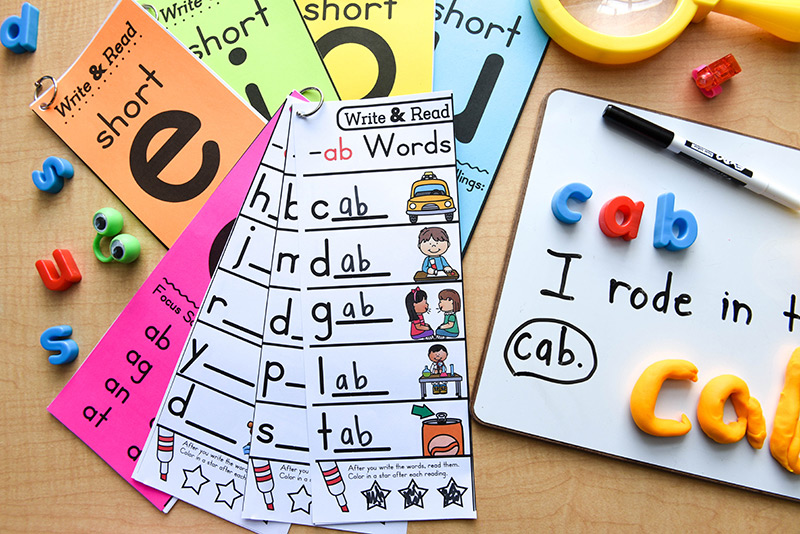 To give you a bit of flexibility and versatility, I provide two different cover options. I'm explaining the two covers in detail below.
Option 1 – A Book for Every Sound-Spelling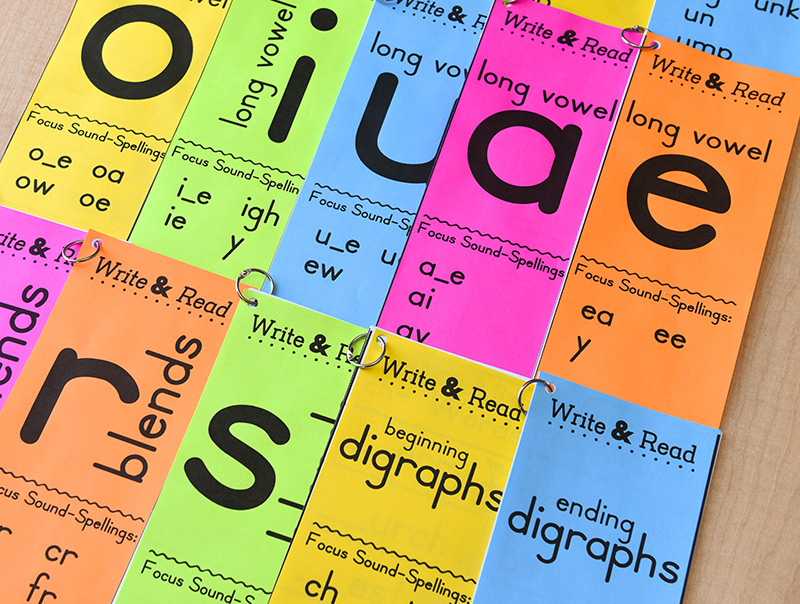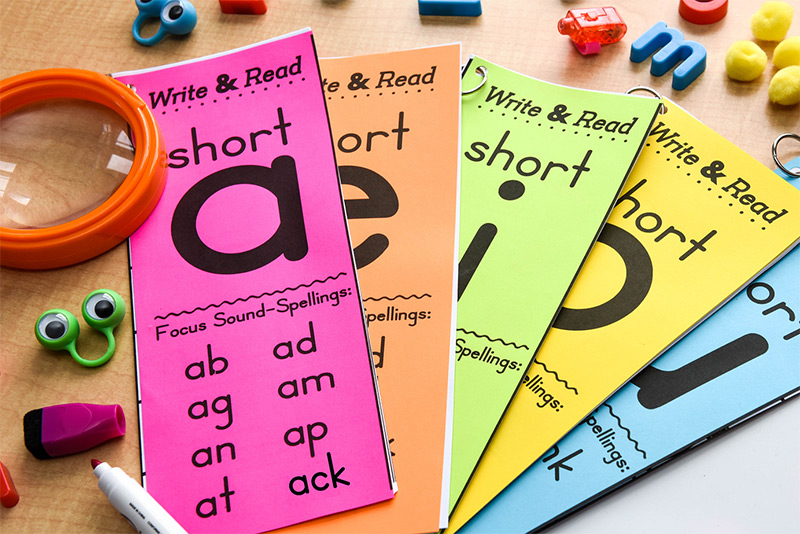 This option allows you to print each book separately (with a separate cover page for each sound-spelling). This is the option you want to use if you want multiple students to use the books over and over.
Examples of how to use: Word Work area, RTI/intervention tool, early finisher activity, or to use with a paraeducator/volunteer. You'll want to laminate these books so students can use them over and over again (using a dry erase marker).
Option 2 – One Book for All Sound-Spellings
If you want every student to have his/her own Write & Read book, I provide an alternative cover for just that.
This option is great if you want students to "build" their own books as they learn a new sound-spelling. The books would continue to "grow" as new pages are added. If you choose this option, I suggest using the black-and-white version and not laminating. Easy-peasy and effective!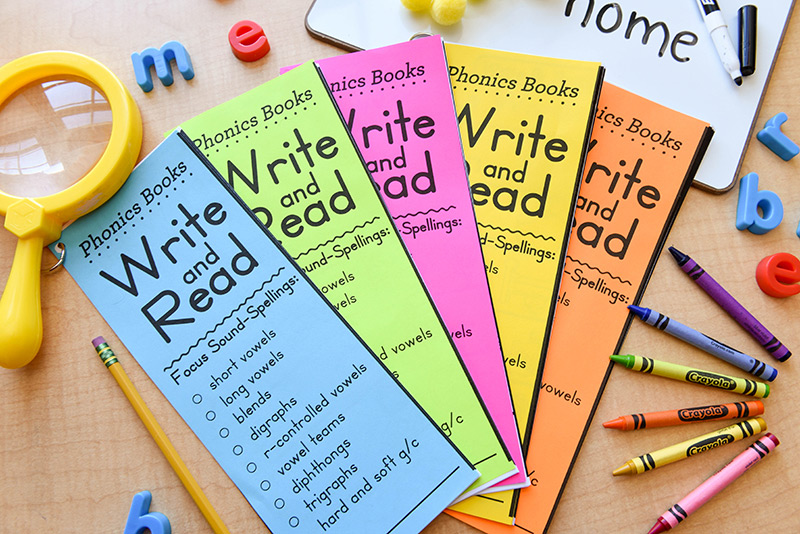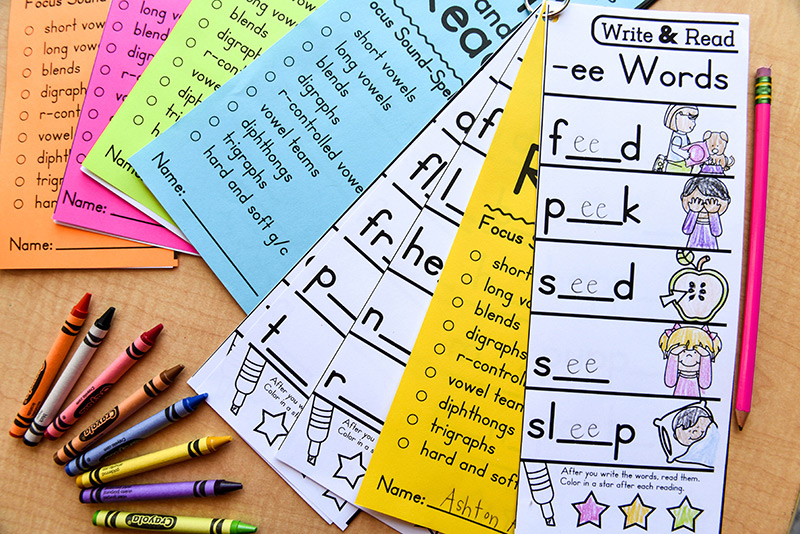 Ideas for Using the Write & Read Books
Like I mentioned above, there are so many different options for using these phonics tools. These books are ideal for those mornings when you want to pull a student or two back to your small group for a few minutes. They are also a perfect tool to have on hand for para-educators/volunteers or to use at Word Work.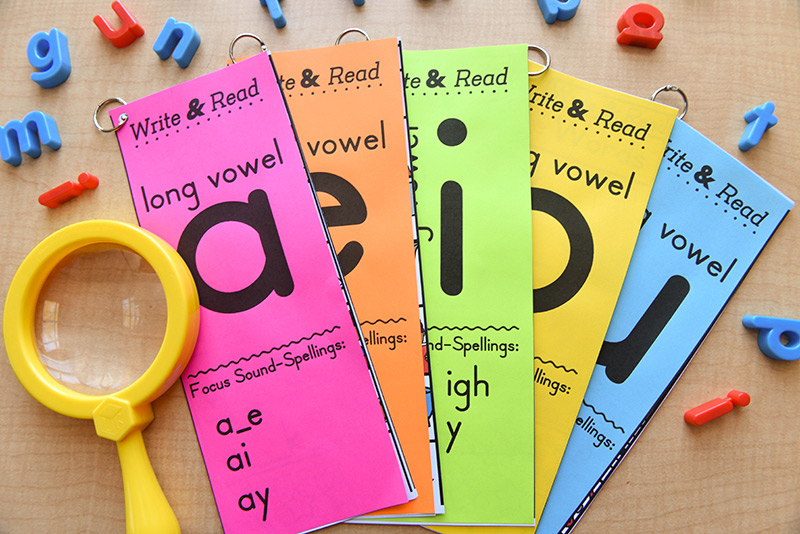 Two of my other favorite ways to use these are: place them in student book boxes and in desk caddies. I'm further explaining those two ideas below.
Place In Student Book Boxes
One fabulous idea is to have students place their Write & Read books inside their book boxes. They can practice reading the words over and over to help reach mastery.
Confused about what a book box is? If you use the Daily 5 in your classroom, you're probably already using book boxes and know what they are. If not, you'll want to join in on the magic because they will change the game in your classroom.
Here's how they work: during Daily 5, students pull their boxes (magazine holders work wonderfully) and read their "just right" books (high-interest, not too hard or too easy books) during Read-to-Self or Read-to-Someone time. If you don't do Daily 5, you can still use book boxes in your classroom. They are great for quiet reading time or at the end of the day before buses dismiss.
Note: I want to make sure I mention that I believe that absolutely nothing can (or should) replace real, authentic texts, so I don't suggest you use the Write & Read books in place of real books. However, I do think they're a great phonics tool to use alongside books (as a practice or reference tool).
Place Them in Desk Caddies
Another idea is to place these in each desk caddy (one for every student). I know typically we use desk caddies to store student supplies, but I love the idea of using half of the desk caddy for supplies and the other side for books and extras (early finisher, academic-based activities). I originally saw this idea from Kristin (she put my Flip & Solve books in her student desk caddies), and I thought it was absolutely genius. Thank you, Kristin!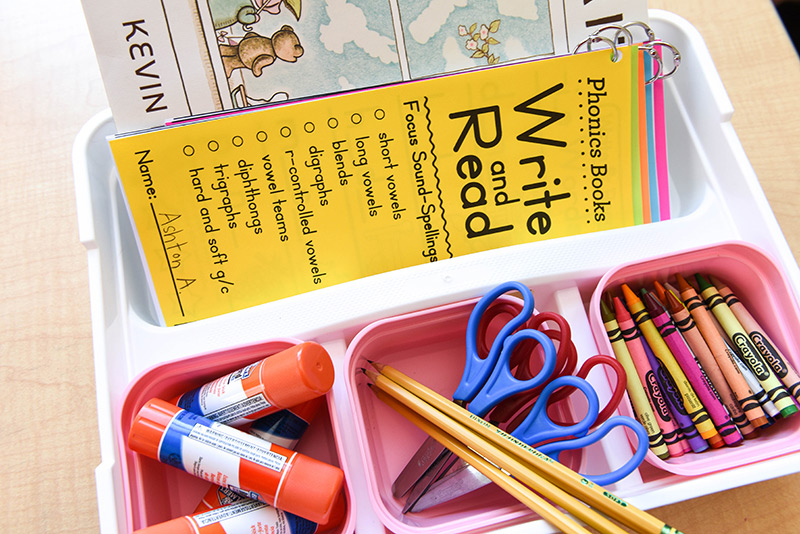 Students can practice writing and reading each sound-spelling in their Write & Read books after they finish their work (perfect to use if you aren't ready to move onto the next activity).
Making Them Hands-On and Multi-Sensory
I wholeheartedly believe and know that hands-on and multi-sensory learning is where the magic lives. Not only does my gut tell me so, but research has also proven it over and over again.
You can easily turn the Write & Read Phonics books into a multi-sensory, hands-on activity with the help of some manipulatives.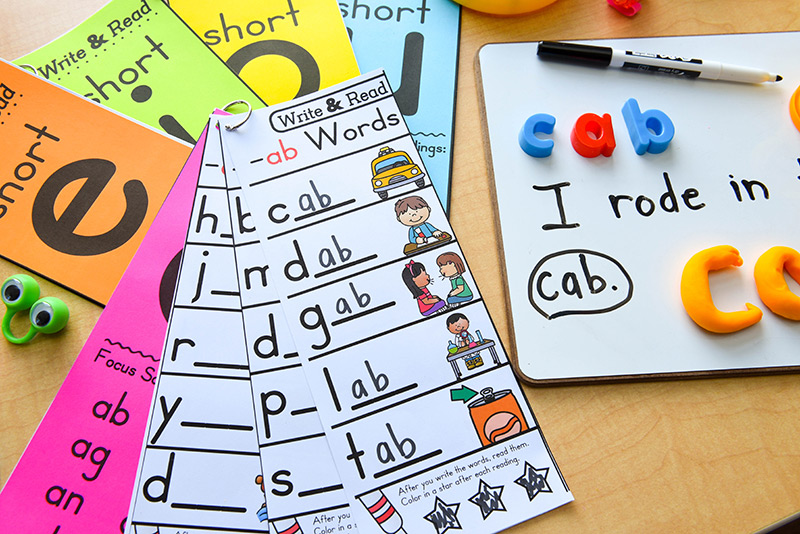 Here are our favorite manipulatives to use
playdough
yarn
small wooden sticks
acorns
dry beans
magnetic tile letters
small pom-poms
beads
little cork pieces
small rocks or stones
watercolor paints and paper
dry erase markers and whiteboards
sprinkles, sand, and rice (to write words in with a paintbrush or finger)
paint bag (a small amount of paint with a drop of water in a Ziploc)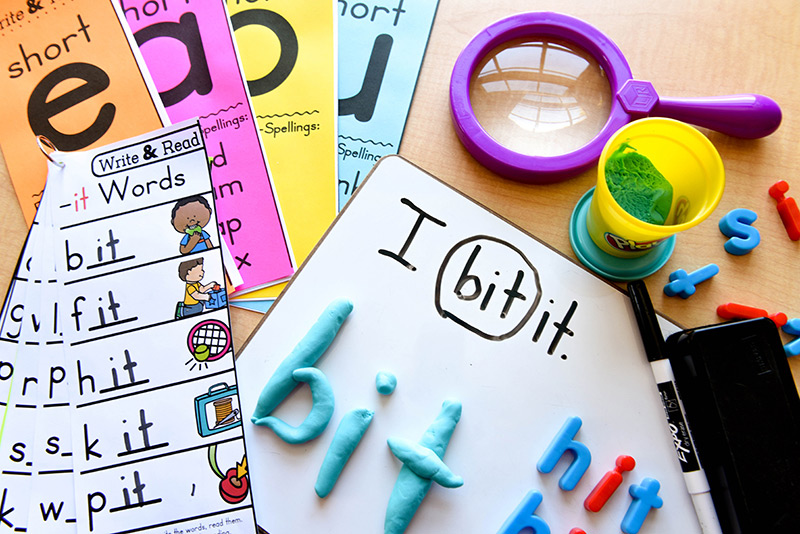 How to Prep the Phonics Books
Write & Read Phonics books are incredibly easy to prep. To use them, just simply print, cut, laminate (if you wish), and place on rings (or bind, if you want).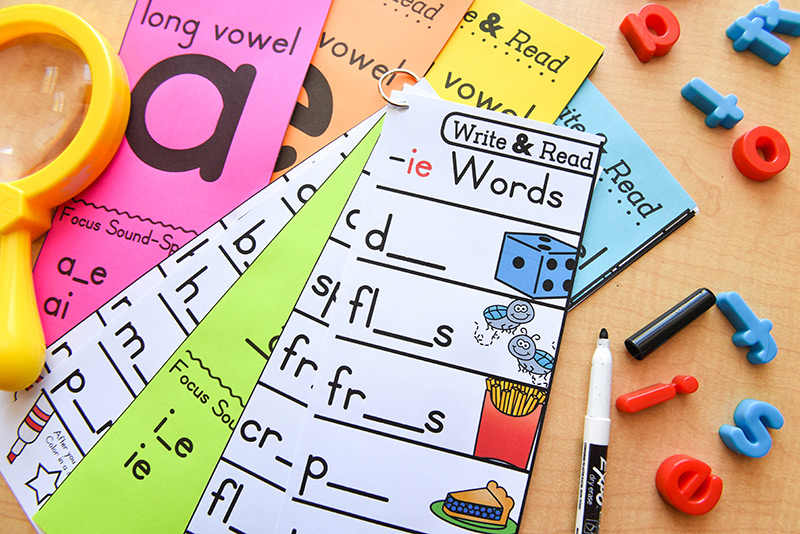 The graphics on the work pages come in color and black-and-white. This gives you flexibility in how you use this resource. If you want students to practice writing and reading the words over and over, you will need to laminate the sheets. Students can use a dry-erase marker and eraser each time.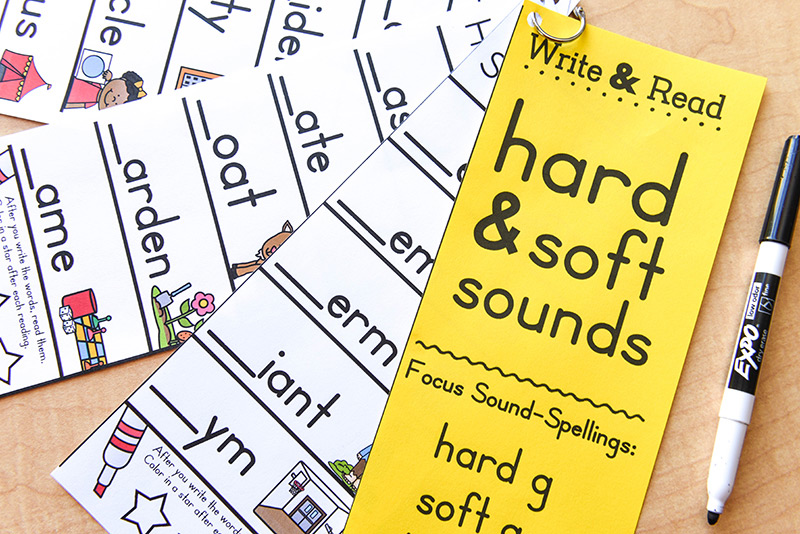 What sound-spellings are included?
The following sound-spellings are included:
short vowels
long vowels
blends
digraphs
R-controlled vowels
vowel teams
diphthongs
trigraphs
hard and soft G and C
Where can I find all of the resources to implement these ideas in my classroom?
Wonderful question! To help you save time and have more ease in your classroom, I've done all of the work for you.
You can get all of the Write & Read Phonics books in this packet for just $7.  This packet includes color and black-and-white images.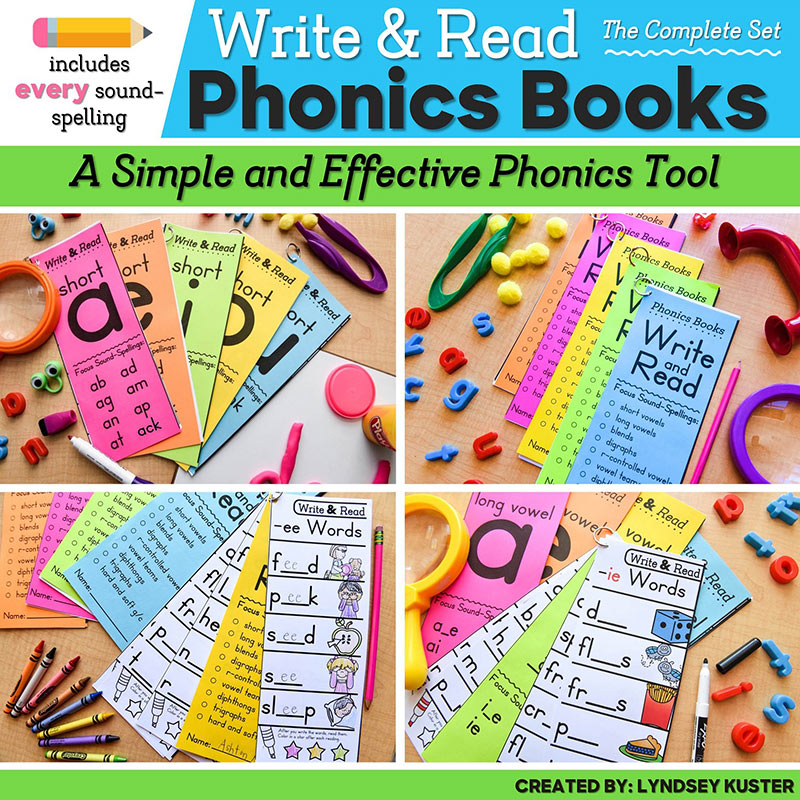 Get the complete set of Write & Read Phonics books today for just $7. Click here.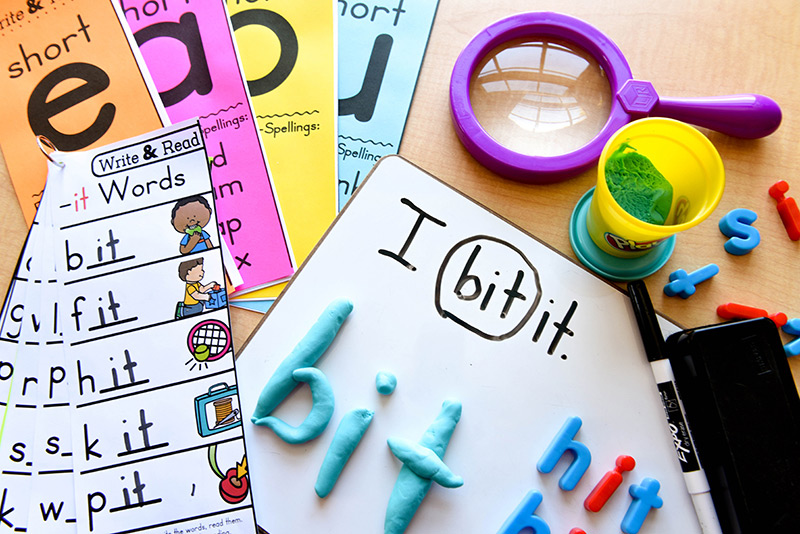 Want to try some of the books for free?
If you're eager to try these Write & Read Phonics books in your classroom but you want to see some of the activities up close first, I've got a fabulous freebie for you. Click on the link below to get a few of the books for free (all of the blend books are included). This freebie includes the color and black-and-white book.
I have other blogs that can give you more tips and hacks to make every phonics activity fun and interactive. Read the following blogs below and snag their freebies!
Have any questions? Please leave me a message or comment below. Thank you!
Love this resource and wish you had access to more like it? Want instant access to a library of resources (for ALL content areas) catered specifically to you and your students' needs? If you're nodding yes, then be sure to join the LK Teacher Club!
When you join the LK Teacher Club, you gain instant access to the resource I share all about in this blog post, plus every other resource I've ever created ($6000+ value).
Not only that, but you'll also have immediate access to more than 100 exclusive resources that aren't found anywhere else!
Get ready to tackle teaching with confidence and ease! Click here to find out more about the LK Teacher Club.