As a kid who was never given math manipulatives (and was scolded for using my fingers), I know just how powerful they can be. Snap cubes, Geoboards, balance scales, pattern blocks – you name it, I love it. Students need ample time to work in the concrete before they can move to the abstract, which is why math manipulatives are so imperative. Therefore, we must make math tangible – especially for primary students!
But a question I get often is this:
"When is it okay to begin transitioning from the concrete to the abstract? And how do I make that transition?"
The answer? Daily Number Talks!
Number talks are the perfect way to get your students' math minds moving from the concrete to the abstract. I like to think about number talks as the bridge between the two points. Even giving students just 10 minutes each day to talk about math with their peers can help build number sense.
Why number talks?
The real truth is: students who lack strong number sense have trouble developing the foundation needed for even simple math. That's because number sense develops through the exploration of numbers, visualizing numbers, and relating to numbers in different ways.
Number talks encourage students to think critically and persevere in problem-solving. They get students discussing, asking questions, and justifying their reasoning. Additionally, number talks ask students to explain to themselves the meaning of a problem and to look for entry points to its solution. The ultimate goal is to encourage students to build their own toolkit for solving problems, and number talks do just that!
Two books I highly recommend that really break down number talks and visual learning are Visible Learning for Mathematics by John Hattie and Number Talks by Sherry Parrish.
How do I lead a number talk?
Like I mentioned above, number talks don't have to be long. In fact, 10 minutes is ideal. You can even conduct a number talk at the beginning of your math block, during calendar time, or squeeze it in before lunch or at the end of the day.
To make this super clear and confusion-free for you, I'm using the acronym TALK to explain how to do a number talk in your classroom. So, let's go!
T – Think!
Present the problem to the class (I provide plenty of number talk cards for you below). You can project the problem on your document camera. If you wish, you can even provide students with math mind mats so they can show their thinking. Dry-erase boards work well too. While these are MENTAL exercises, we do want students to be able to show their thinking.
*Depending on your students and where you are in your number talk journey, you may choose not to provide a writing tool for your students.
Give students plenty of think time! Prompt them with the question, "What are you being asked to do?" Then, allow students time to work through the situation or problem. Don't guide or prompt your students in any way.
A – Ask and answer questions
Next, you'll ask students to explain their thinking and give them time to respond. What you're looking for here is the process in how they came to their answer, not the product. What steps did they take? How did they explain their thinking? What kind of vocabulary did they use? If you provided students with math mind mats or whiteboards, can they verbally express what they showed on paper? All of these pieces are what is most important!
L – Listen and learn
Then, allow other students to piggyback on their peers' responses. It's important to teach students how to listen and respond. Additionally, I like to provide prompts, such as the following:
I agree with you because…
I disagree with you because…
I want to piggyback on what _____ said…
I used a different strategy. This is what I did…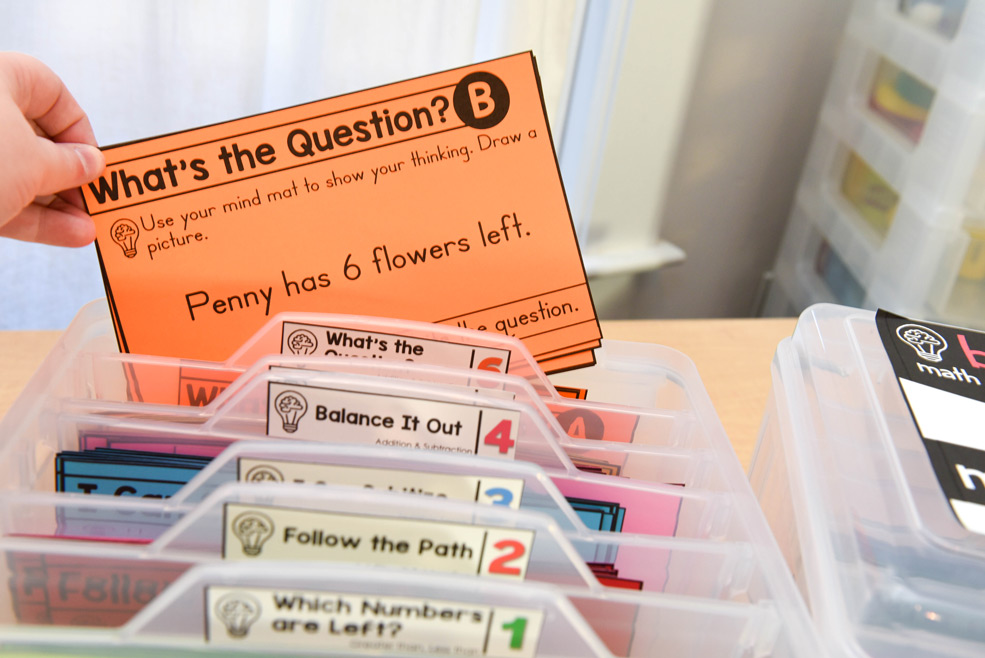 K – Grow and build new knowledge
Finally, students can take that new knowledge and apply it to other math concepts.
I keep all of my number talk cards in this container. I purchased the container at Michael's. It actually holds greeting cards, but it acts as a perfect storage solution. I also print them on different colored paper to help keep me organized.
When you're first introducing number talks, you must model (and model again!). Model the entire process. Don't rush through the thinking time. Model exactly the amount of time you will give your students to work. Use the exact language you want students to use.
To help you try these number talks in your classroom, I'm providing you with the TALK acronym posters and the speech bubble cards in the free download below. You'll also receive free number talk cards!
Are you ready to give number talks a whirl?
If you're ready to give number talks a try in your classroom, you can grab a big number talks freebie by clicking on the button below.
Or, if you're looking for a yearlong resource of number talks, I have that for you, too. What's even better about this resource is you can use it outside of your number talk time as additional number sense practice. Think: early finisher tasks, exit tickets, math tub activities, math stations, etc. The possibilities are endless!
Just click here or on the image below to snag them.
Love this resource and wish you had access to more like it? Want instant access to a library of resources (for ALL content areas) catered specifically to you and your students' needs? If you're nodding yes, then be sure to join the LK Teacher Club!
When you join the LK Teacher Club, you gain instant access to the resource I share all about in this blog post, plus every other resource I've ever created ($6000+ value).
Not only that, but you'll also have immediate access to more than 100 exclusive resources that aren't found anywhere else!
Get ready to tackle teaching with confidence and ease! Click here to find out more about the LK Teacher Club.